Mike Christie Sheetmetals has a well equipped workshop with a wide range of specialised equipment
---
Water Jet Cutter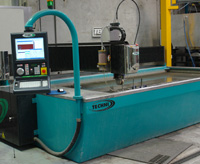 For tricky cutting jobs – contact us.
Our water cutter slices through just about anything with accuracy! Our computer programmable equipment uses pressurised water up to 55,000 lbs per square inch to cut tiles, bench tops, stone, glass, veneer, timber and marble. It tackles copper, brass and alloy to 150 millimeters thick.
We use it to do volume work and one off specialist jobs.
Mike Christie says "We use this machine for high volume, intricate cutting. Tilers send us pellet loads of tiles to be cut into complex mosaics. It's in demand from vintage vehicle owners too. We recently manufactured gaskets for someone who could no longer get parts. Museum designers and architects ask us to use it to create special building effects for them."
The water cutter was used to create wooden wall signage and beautiful fine inlaid veneer wooden plinths for Da Vinci War Machines – an exhibition of Leonardo Da Vinci inventions that is currently touring New Zealand and will continue to other cities around the world.
Water Jet Cutter Specifications
Make/Model: TECHNI TECHJET-X2 PREMIUM SERIES MODEL TJ4000-X2
Equipment Type: CNC WATERJET CUTTING MACHINE
Table size: 1950mm x3900mm
Cutting Area: 1830mm x 3660mm
Maximum air speed: 400mm/per second
Maximum cutting speed: 400mm/per second
Maximum cutting pressure: 55,000 PSI
Max Z-axis travel: 115mm
Intensifier: KMT, SL-V E50V2
Horse Power: 50hp (37kw)
Maximum Flow Rate: 1.0 gpm (3.8 L/min)
Maximum material thickness: 150mm
Tube Bender
4-Axis CNC Tube Bender was used to create this hand rail
Tube Bender Specifications
4 AXIS CNC Tube Bender, with roll bending capability, YLM CNC Control System – PC based with touchscreen, Hydraulic mandrel extractor, Hydraulic pressure die assist, Drop away type clamp die, Servo Head shift. The max length of a tube is 5 metres.
Brand: YLM
Capacity: 2.5 inches
CNC aided press brake

3.7 metre bed
folds metal up to 6 millimetres

NC guillotines

3700 x 8 millimetres 2400 x 3 millimetres

Sectional rollers

140 millimetres
75 millimetres
Rolls flat bar up to 200 x 40 on edge
Angle up to 150 x 150 x10millimetres
Pipe to 88.9 millimetre diameter
200 PFC
UB 200
Rectangular hollow sections

CNC band saw

Plate rollers

Roll plate up to 3 metres x 10 millimetres
---
Other machines we have include wet edge table for stainless benches, punch and shear, linisher, lathe, George Fisher saw, Fronius tig welder, Durma hydraulic notcher, drill press, auto feed drill and thread tapping, 5 tonne gantry. To talk about your specifications contact us today.